Real History Earned
Timeline . Events . History . Innovations . Inspirations . Patents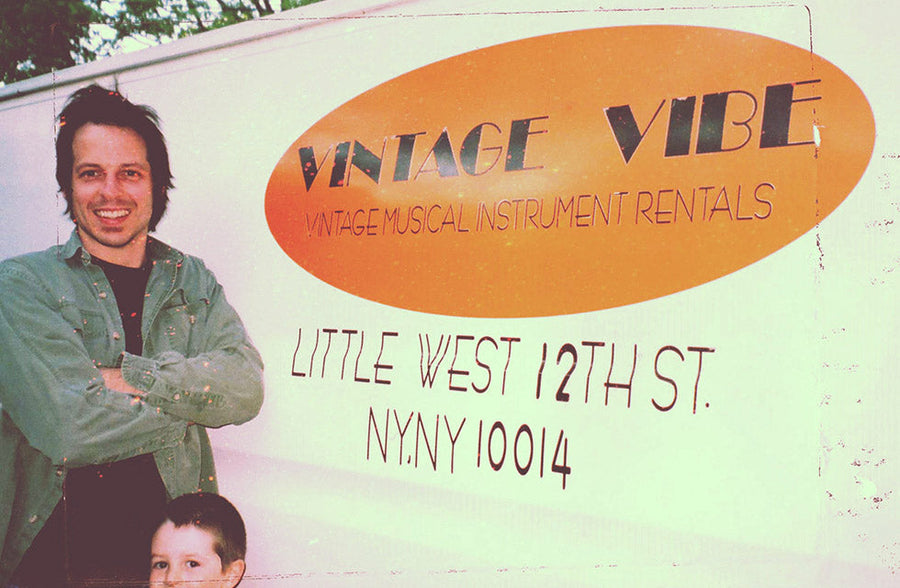 1997
Humble Beginnings
Vintage Vibe is a one-person operation rental company renting vintage keyboards, amps, drums, and highly sought-after vintage studio processing equipment in New York City. The recording processing gear I rented and contacts I made were through the help of Matt Wells and Nat Priest, who worked out the Magic Shop recording studio that my wife Janet managed, and my days working for S.I.R gained me many studio contacts. Humble beginnings indeed!
1998
Vintage Vibe sees the tremendous upside to buying and selling vintage keyboards. In 1998, it was not uncommon to purchase vintage keyboards for $10.00 to $15.00 dollars at garage sales. Previously, we bought vintage gear for rental inventory, but a giant light bulb went off after selling our first Wurlitzer to the Counting Crows for $800.00. It became apparent what we had to do next!
1999
Fred DiLeone and Chris Carroll meet in N.Y.C. at E.A.R.S. (Expert Audio Repairs and Services), where Chris heads the keyboard repair department while running V.V. out of the company van on the side. E.A.R.S. co-owner Jeff Blenkinsopp and Chris Carroll developed the first-ever Wurlitzer stereo amplifier a decade before any other aftermarket brand. Customers included Supertramp to Parliament-Funkadelic.

Vintage Vibe starts its eBay store for vintage instruments. Sells classic electric pianos and rare vintage parts.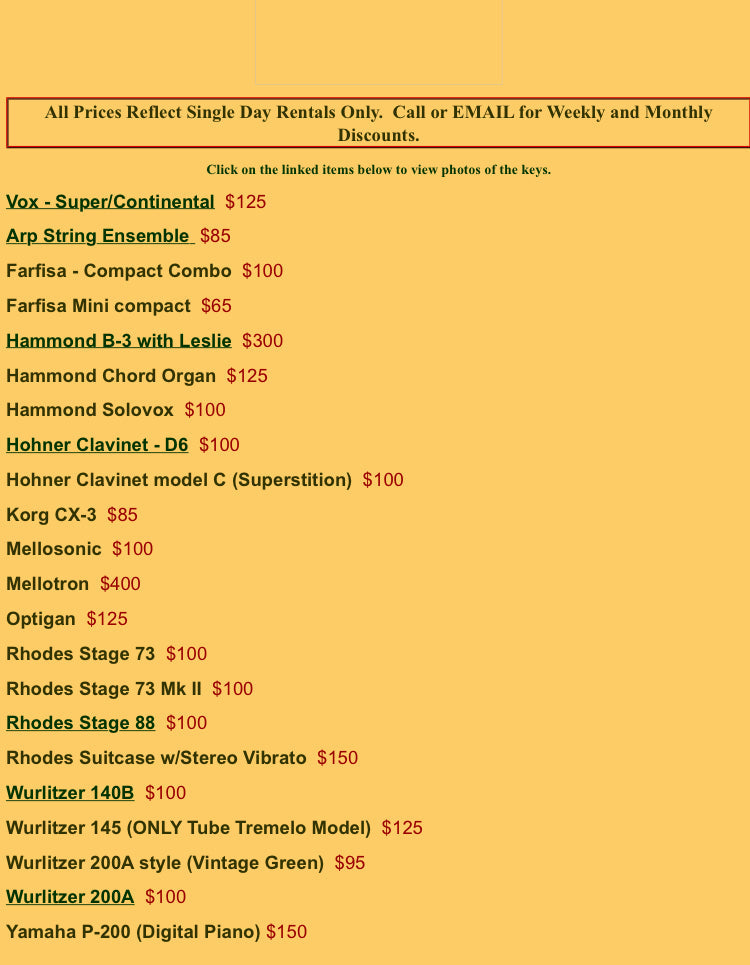 2000
Vintage Vibe creates www.vintagevibe.com, our first website for Instrument rentals, sales, and repairs. In addition, Vintage Vibe continues house call repairs and services to Manhattan recording studios, rental facilities, and rehearsal spaces.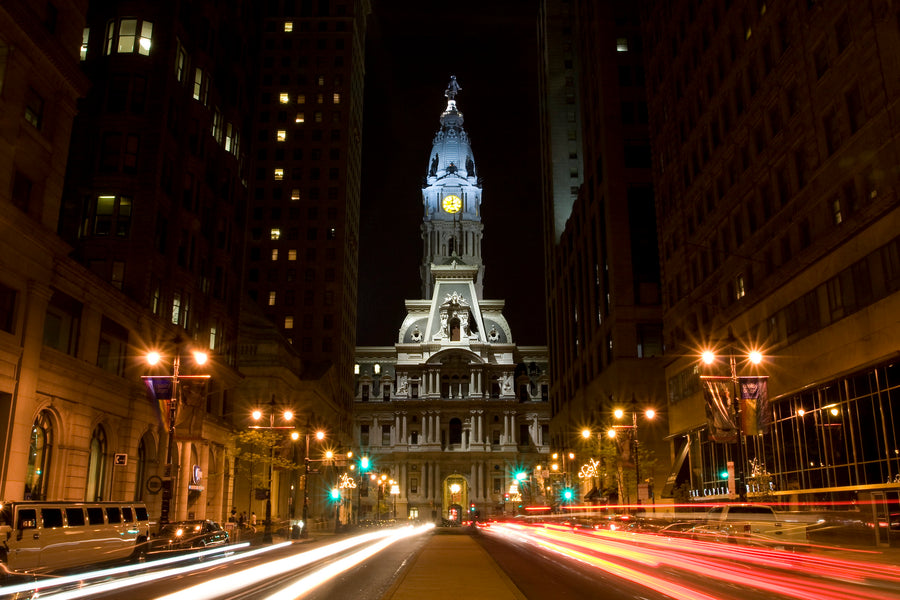 2001
Vintage Vibe expands its territorial reach by picking up repairs in Philly for artists like the Roots, The Studio, and James Poyser.. 9/11 happens, and things get scary for all. Chris leaves E.A.R.S. after N.Y.C. is devastated and commits to building up Vintage Vibe to provide for his growing family.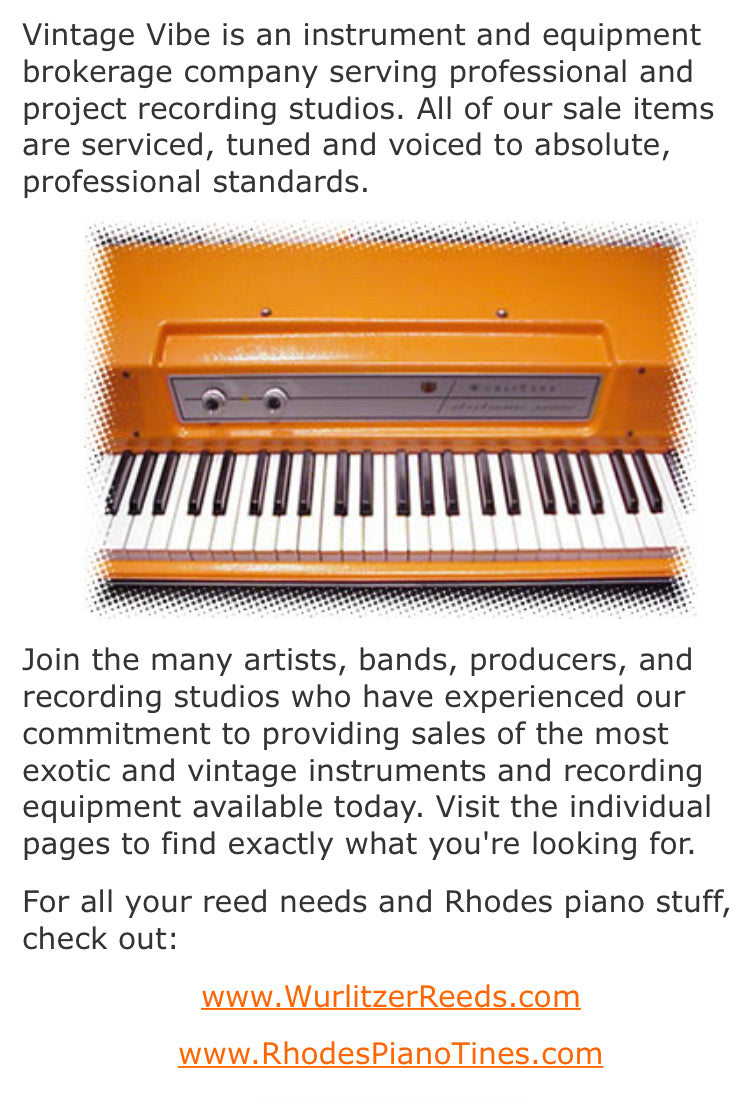 2002
Vintage Vibe expands our website, offering a more comprehensive range of aftermarket parts and restored pianos, notably new Wurlitzer reeds, for the EP community. Vintage Vibe was the first to successfully reverse engineer and produce a new Wurlitzer reed. Since then, players have broken reeds in their pianos and not had to worry about losing their authentic tone.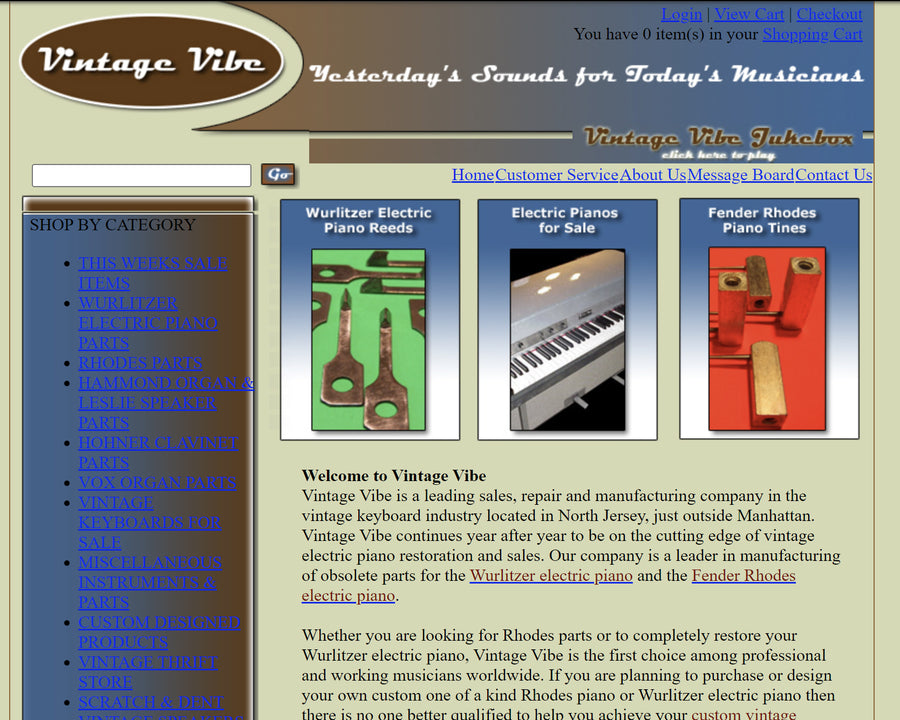 2003
Vintage Vibe continues scaling up aftermarket parts production for Fender Rhodes pianos and noticing a small but growing reemergence of interest in Fender Rhodes while realizing the future of saving these essential instruments.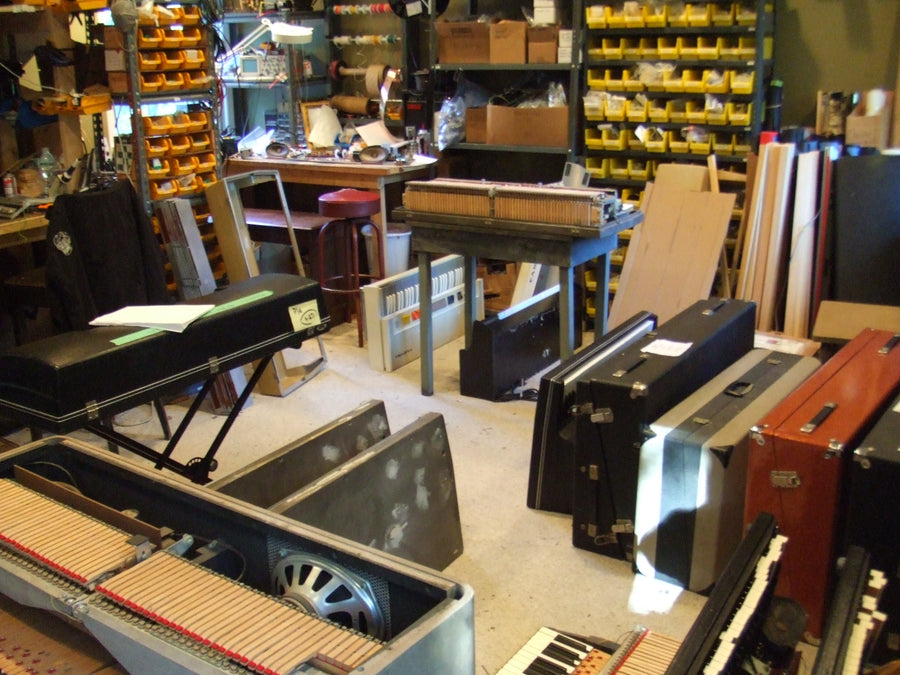 2004
Vintage Vibe continues to earn its excellent reputation as the place to go in NYC for Rhodes, Wurlitzer, Clavinets, Hammond Leslie, and combo organ sales and repairs, offering free, convenient pickup and delivery to each customer.
2005
The Wurlitzer amplifier
Vintage Vibe starts a series of innovative online videos teaching others to tech their pianos. Introducing lessons to a whole new era of new technicians and DIY techs.

Vintage Vibe releases the first-ever after-market model 200 Wurlitzer amplifier and 200A preamplifier. We are again seeing what's missing and leading the future of this burgeoning cottage industry.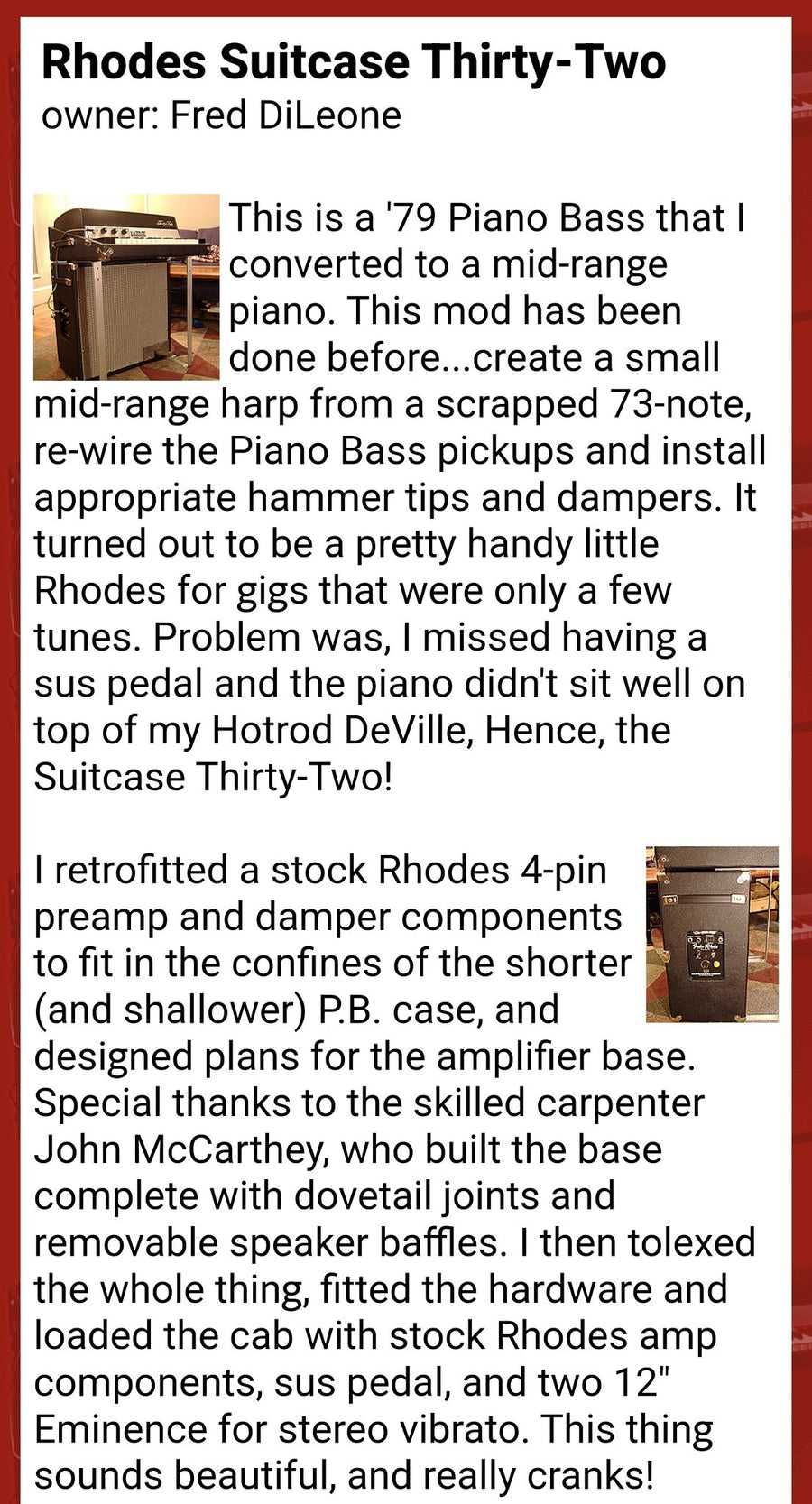 2006
Fred Dileone designs and builds the First Rhodes 32-note suitcase. Fred shows what is possible in the design and lightweight modeling of Rhodes Pianos. Unbeknownst then, the ideas for a future Vintage Vibe piano have taken seed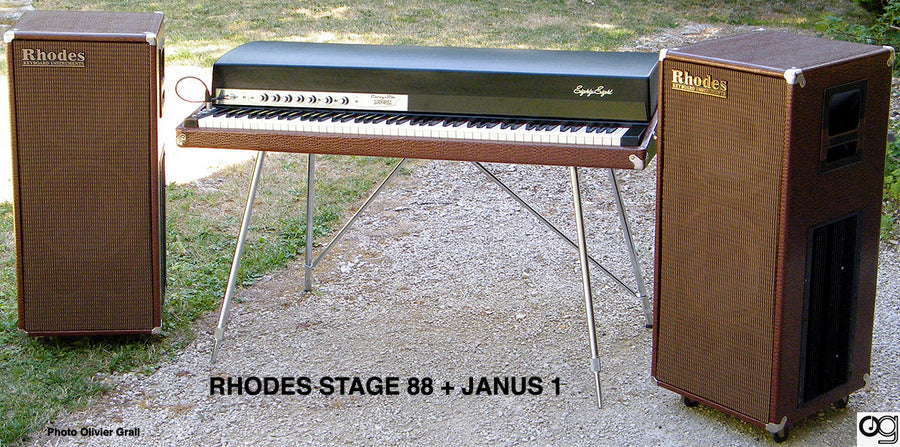 2007
Vintage Vibe releases the Quadrapuss, the first of its kind multi- effects rail for Rhodes pianos. It consists of stereo tremolo, Dyno EQ, and a Small Stone phase shifter. Not since Dyno My Piano had anyone designed a preamplifier with effects as an after-market addition for Rhodes pianos. The Quadrapuss was ahead of its time.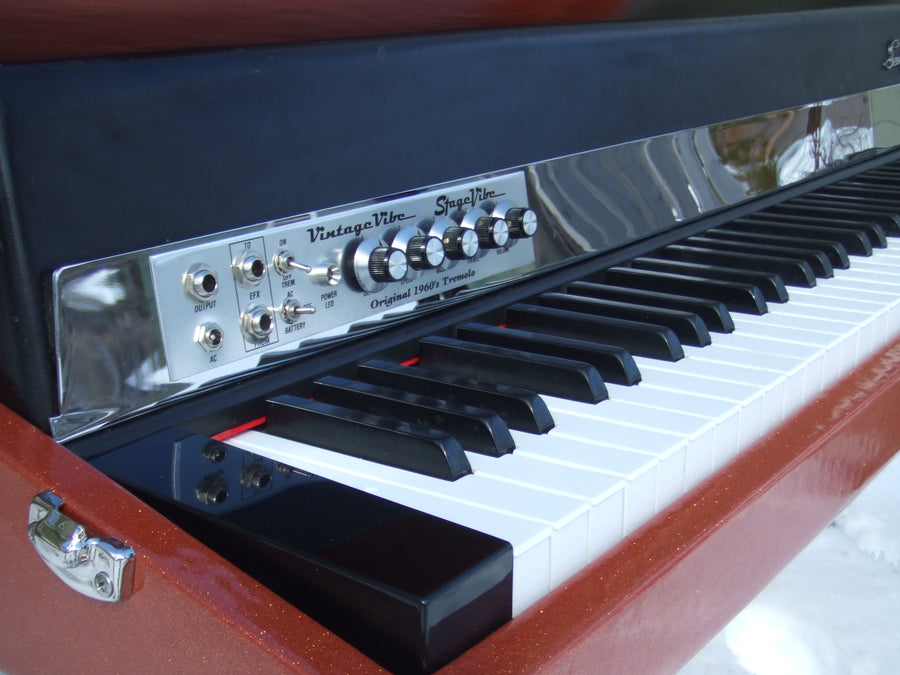 2008
Vintage Vibe starts heavily customizing Rhodes and Wurlitzers with custom preamplifiers, power supplies, effects, chrome rails, and an array of colored pianos. Notably, we designed a unique pre amplifier called the Split Man Vibe, an authentic stereo pre amp; the piano harp was re-wired into two sections, and the stereo preamp was capable of incredible stereo sounds, each independent of the other. Other preamps included the Little Red Booster, The Fetish, an authentic Dyno EQ, The Stage Vibe, and The Stereo Vibe. For Wurlitzers, we designed a Tremolo for 112 pianos and an add-on Phase Shifter for 200/A models.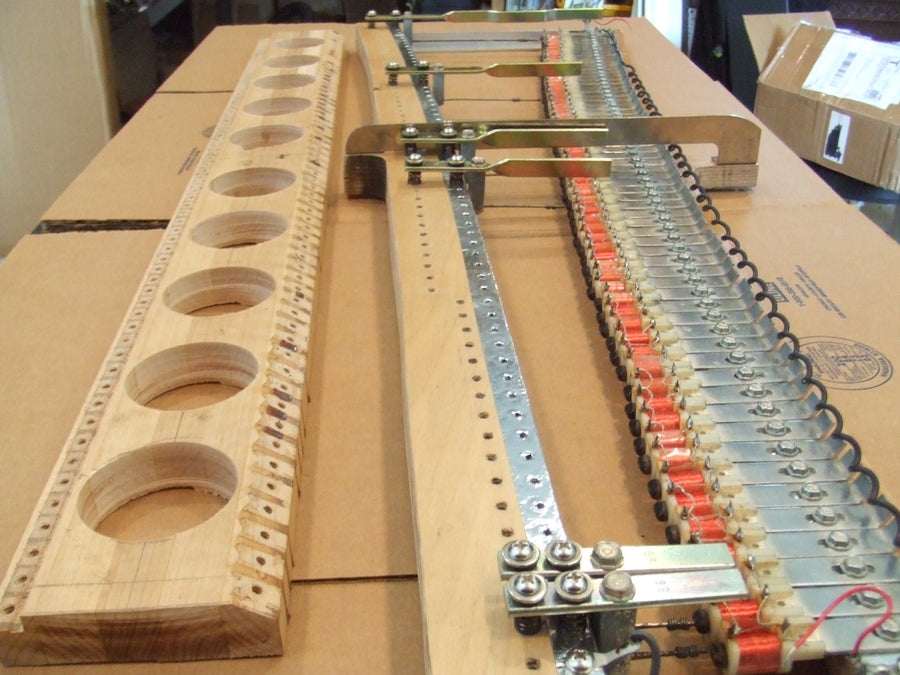 2009
Chris and Fred start designing and cutting wood on the first Vintage Vibe prototype piano after restoring all three Steely Dans pianos. The dream and vision came alive in the late-night sessions working on all three of Donald Fagen's pianos. Of course, the piano would be wood-based, so we used old Fender Rhodes parts for our prototype, and so did a few of the early VV pianos!

We designed a modern piano that removed as much weight and size as possible. Today, our pianos, dreams, and designs have stood the test of time, but boy, we were naively optimistic!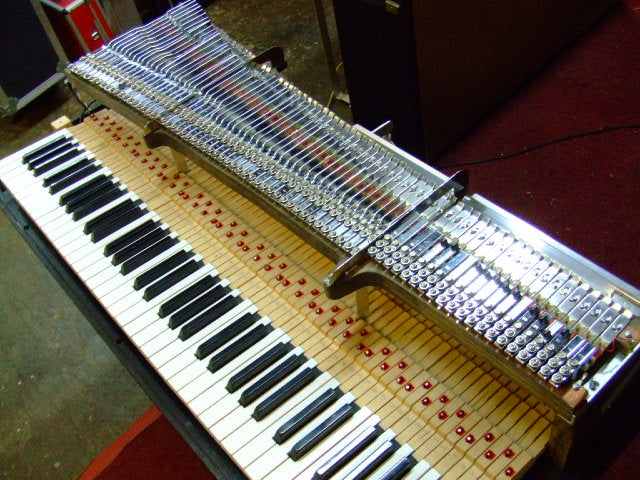 2010
Vintage Vibe has designed the smallest and lightest Rhodes-style piano ever made, a true evolution in weight and size reduction. While we had the design, size, and weight nailed, we were still a year away from having all the parts available for full production.

Vintage Vibe slowly unraveled the mysteries of how Fender Rhodes tines were made; without any clues left behind from Rhodes, we reverse engineered and manufactured our first tines for our piano.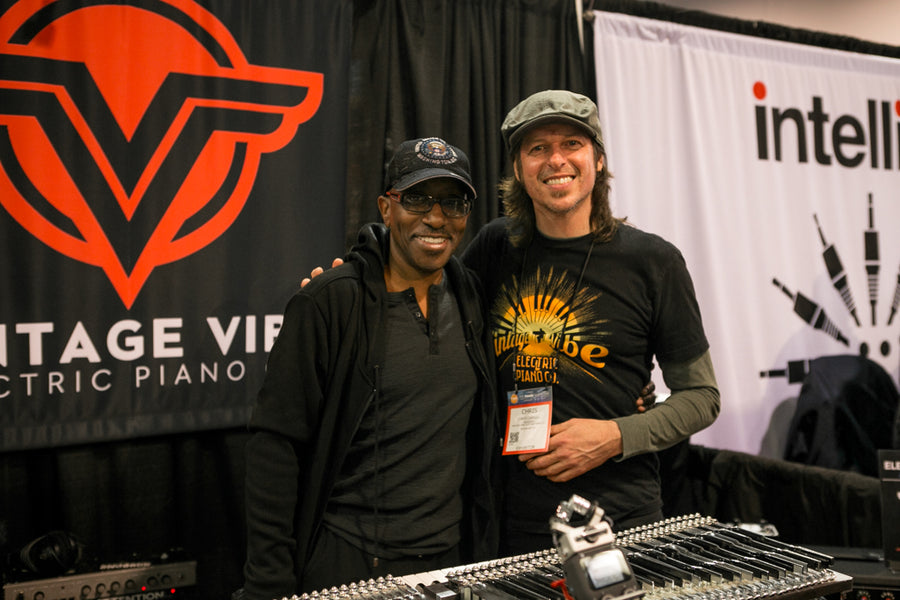 2011
Vintage Vibe shows the first Vintage Vibe pianos at NAMM and steals the show. We shipped our first pianos the same year to eager customers

Serendipitously and subsequently, we were able to offer the world the first real working after-market tine as a replacement for all Rhodes pianos.

In addition, we helped ensure that no more vintage Rhodes pianos were destroyed for parts. That was one of the most significant bonuses of producing a piano. eBay had been littered with opportunists, profiteering off disassembling old pianos and selling the parts.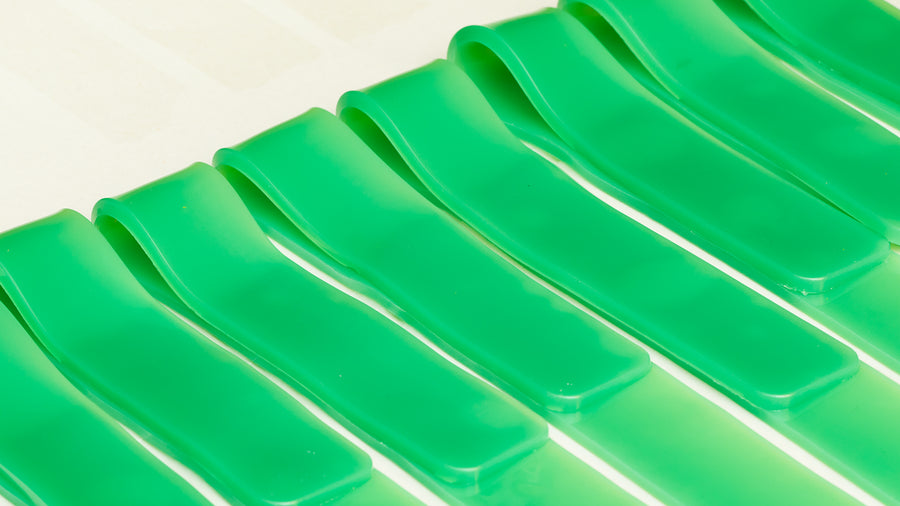 2012
Vintage Vibe innovates the Clavinet world with a yarn-free dampening system for the strings, making it easy for anyone to improve dampening and change strings on a Clavinet. Before Clavigel, no one changed strings on a Clavinet; it simply was a chore.

In the same time frame, we set a Rhodes pioneering precedent in recognizing the need for a proper tone bar screw and grommets relationship on Rhodes pianos, previously unrecognized. After extensive R&D, we proved our research with a video showing one size does not fit all as well as a proper ideal fit.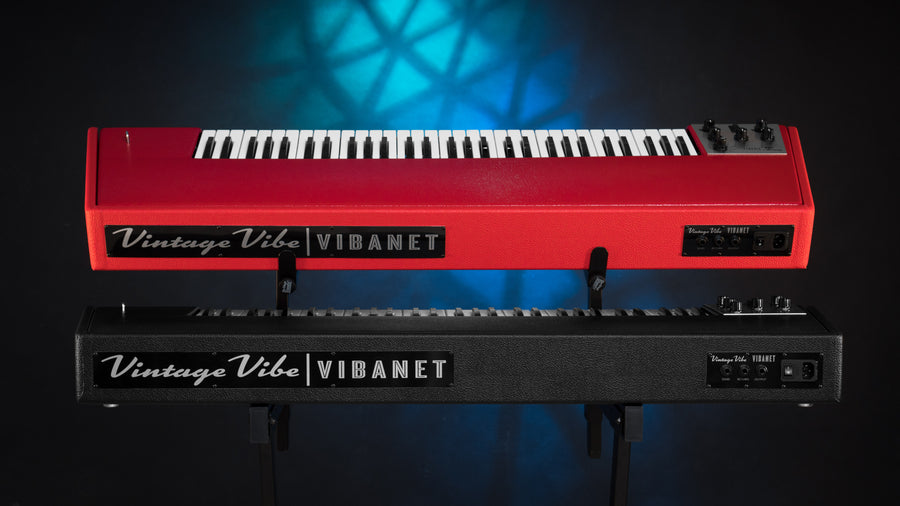 2013
Vintage Vibe introduces the Vibanet, a lightweight new concept of the Clavinet D6. We designed a world-class preamplifier for the Vibanet and a retrofit version for models C, D6, and E7 that has changed the game for Clavinet preamplifiers since: with lighter weight, new pickups, strings, and Clavigel and mute system, the Vibanet makes a big splash.

Vintage Vibe comes up with an original unique Rhodes hammer tip, called the Angled tip, a combination of the height of the square tip and the increased angle of a graduated hammer tip. These standard Angle tips have evolved into the modern 6-zone Angled tips used on all VV pianos and all VV Fender Rhodes restorations. Through our research and development, we realize that a square tip hinders performance, and the Angle improves performance. As a result, our hammer tip design can now be found on the Rhodes MK8.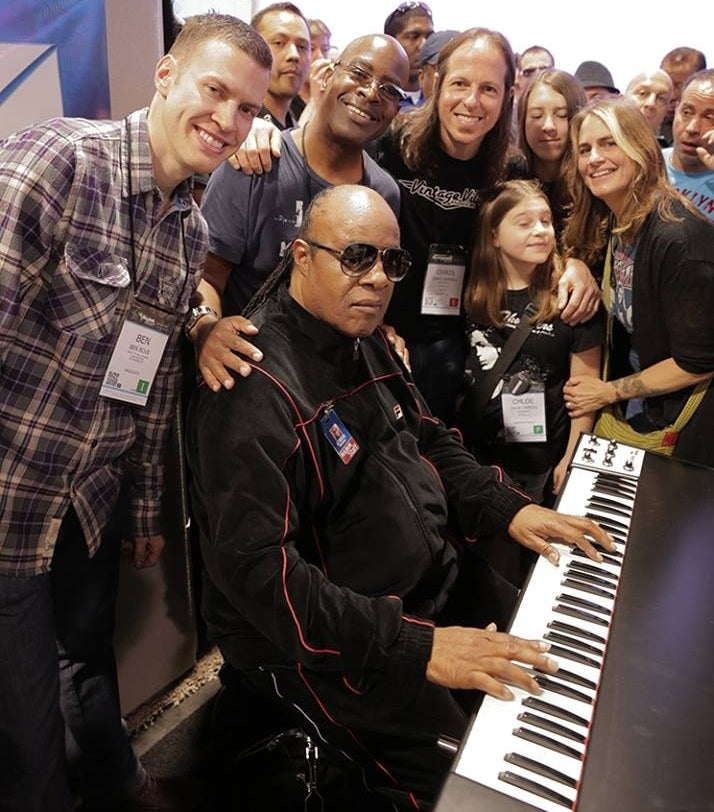 2014
Stevie Wonder leaves digital pianos behind and starts playing Vintage Vibe Pianos and Vibanet after a discovery at NAMM. Stevie owns 2 Vibanets and two Vintage Vibe Black Diamond 73 pianos. He can be seen playing live and in the studio recording with them to this day!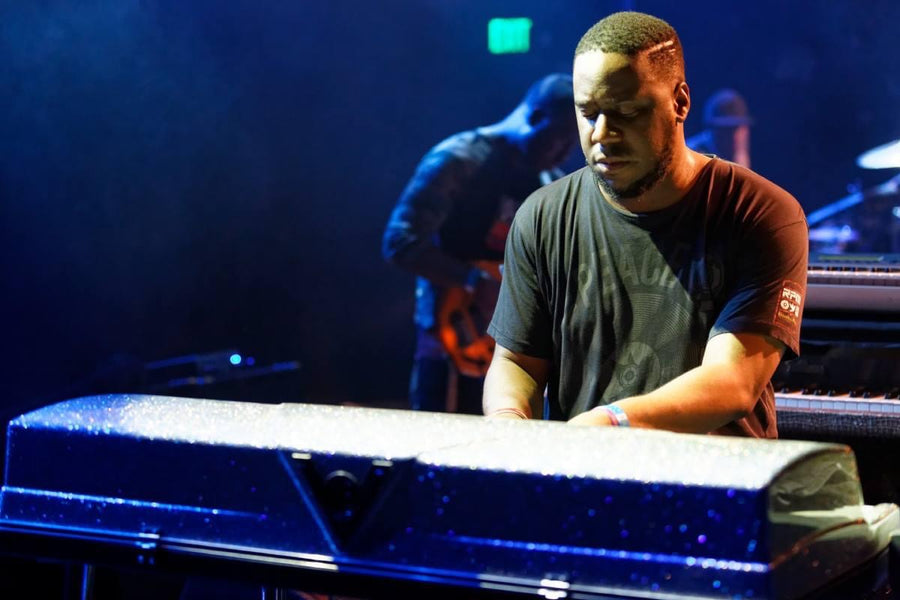 2015
Robert Glasper used a Vintage Vibe piano on Black Radio 2, notably on "Calls" with Jill Scott. Robert later follows with a tour on the Vintage Vibe piano. The beautiful expressive sound of the Vintage Vibe piano can be heard in the song "Calls," off Black Radio 2 and it's genuinely heavenly.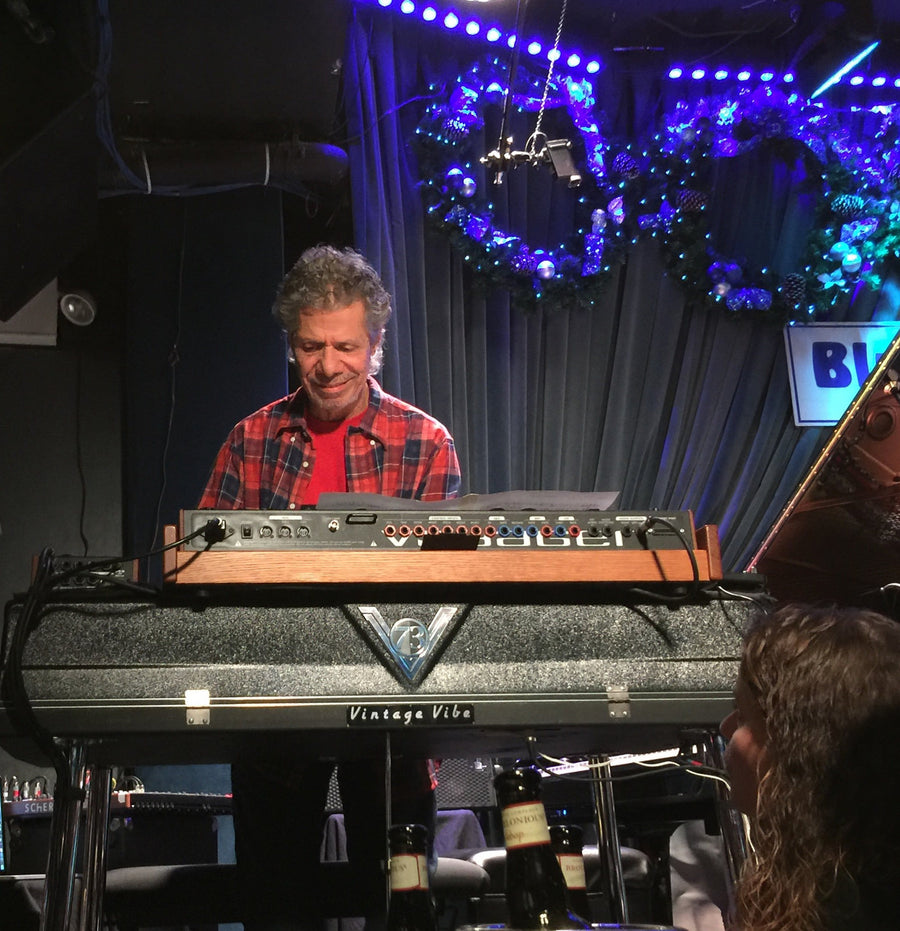 2016
Vintage Vibe works hand in hand with Chick Corea on designing the most articulate action ever performed on Rhodes style action. Our goal was to satisfy Chick's discerning quest for the ultimate touch and response. Affectionately known as the "Chick Mod." We pioneered this art of action regulation on the Vintage Vibe Piano, and subsequently, we perform it on all Rhodes pianos we restore. Hammer leveling is a crucial aspect of this procedure, and the art is now emulated by technicians worldwide.

The same year, Spectrasonics works with Vintage Vibe on the groundbreaking Keyscape, sampling our pianos for their world-class library.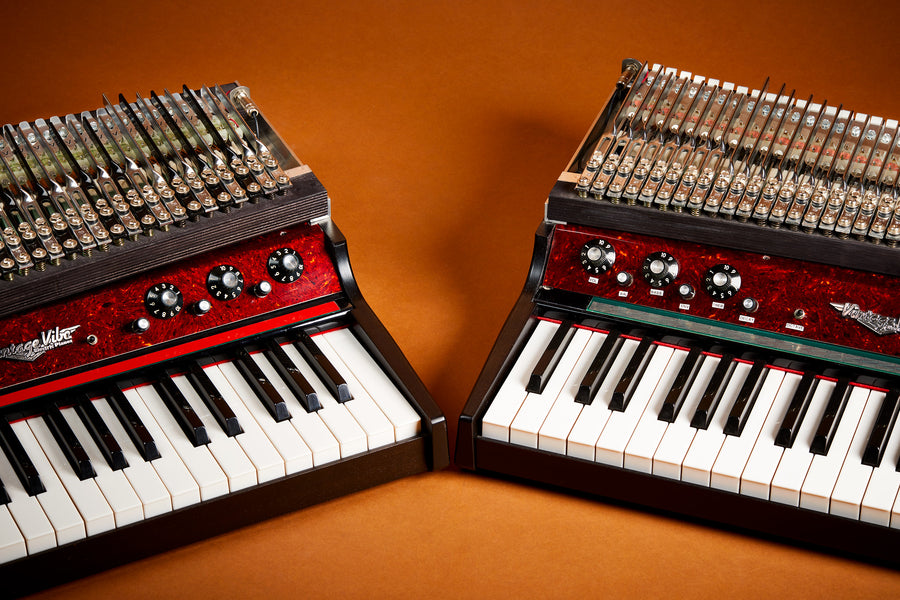 2017
Vintage Vibe steps up on online tutorials, teaching technicians and players the finer points of Rhodes work with our Tech Tip series.

Vintage Vibe innovates piano building with a reduced in size action and Open-Frame Concept Piano with a synthesizer strip in Mid and Bass configurations. This innovative synthesizer strip concept particularly shines on our Bass piano model with the ability to slide in and out of Bass notes, which was previously unachievable by a Fender Rhodes bass piano. In addition, the strip had an octave boost, attack, decay and sustain, and full EQ. These concept pianos were a huge hit at the 2017 NAMM show.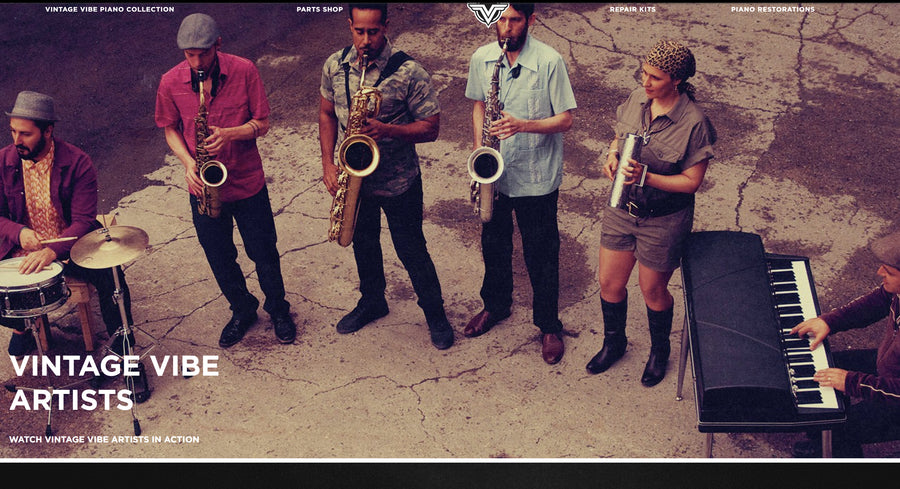 2018
Vintage Vibe sets new community standards for visual piano and parts representation by employing the best photographers and videographers and adding simple navigation throughout the website layout.

Vintage Vibe builds a few custom Open Framed Bass pianos for customers.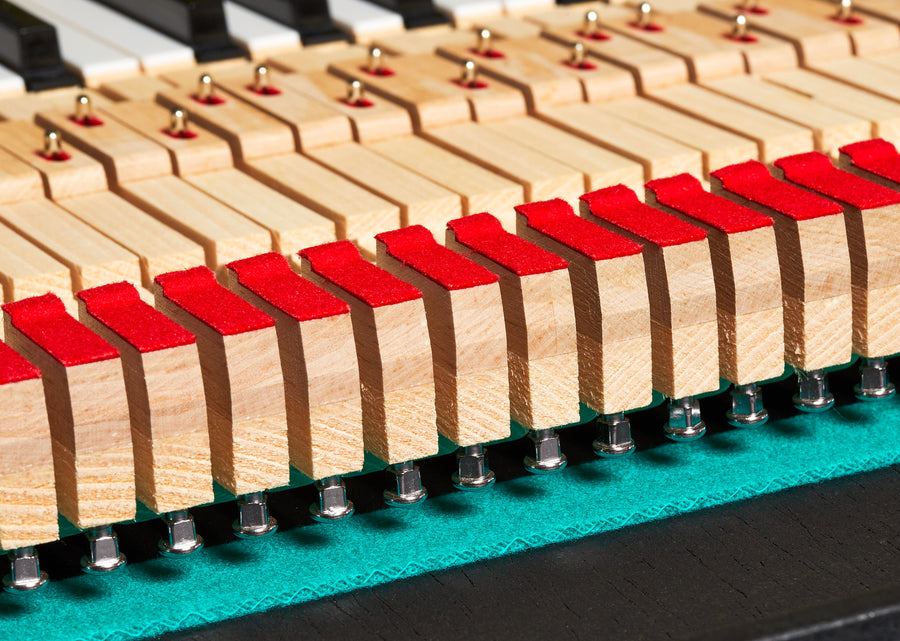 2019
To further advance and aid in the action regulation of the "Chick Mod," Vintage Vibe innovates and adds a capstan to the rear backend of the key pedestal, thus enabling regulation via a capstan instead of laboriously gluing paper shims or removing material with a hand plane. This giant step forward in piano regulation was the precursor to what is to later come with our patented Dual Capstan Action.

Chris and Fred and another partner embark on R&D for a new concept keyboard with history and ties to the rare Ace Tone Canary and the French Ondes Martenot. It was a passion project that we spent the next 2 years trying to get off the ground, ultimately we paused the project, but our ideas are still strong and we have model renderings of the keyboard.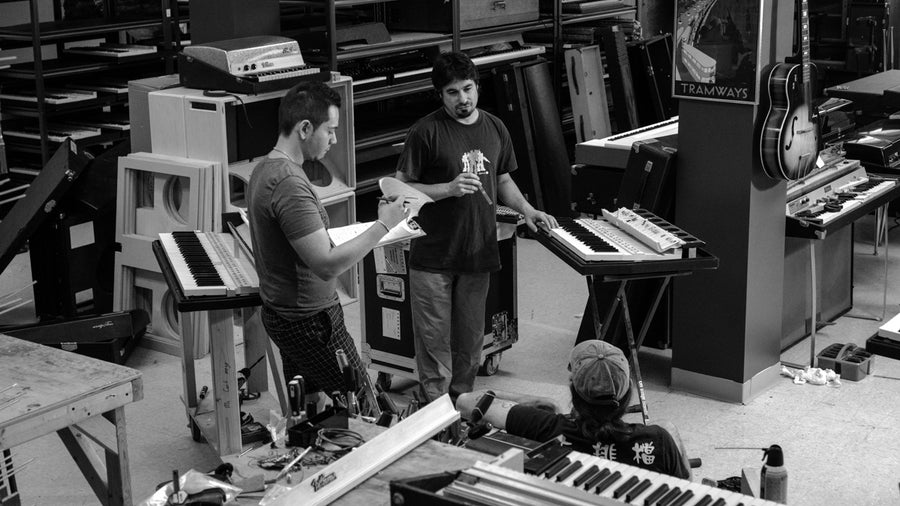 2020
2020 is a busy year with Research and Development projects; Fred and Chris delve into a new ambitious prototype piano concept that is lighter and more compact than our groundbreaking flagship Vintage Vibe piano. It weighs in the low 40lb—range for 73 notes. We go so far as to build a prototype, then decide to put it on the shelf for the time being. After that, however, we realize we must retool many parts for this new piano. On the other hand, the competition has built a heavier and larger piano than the Vintage Vibe, and no one is complaining about weight or size; we are again ahead of the curve, with an ace up our sleeve!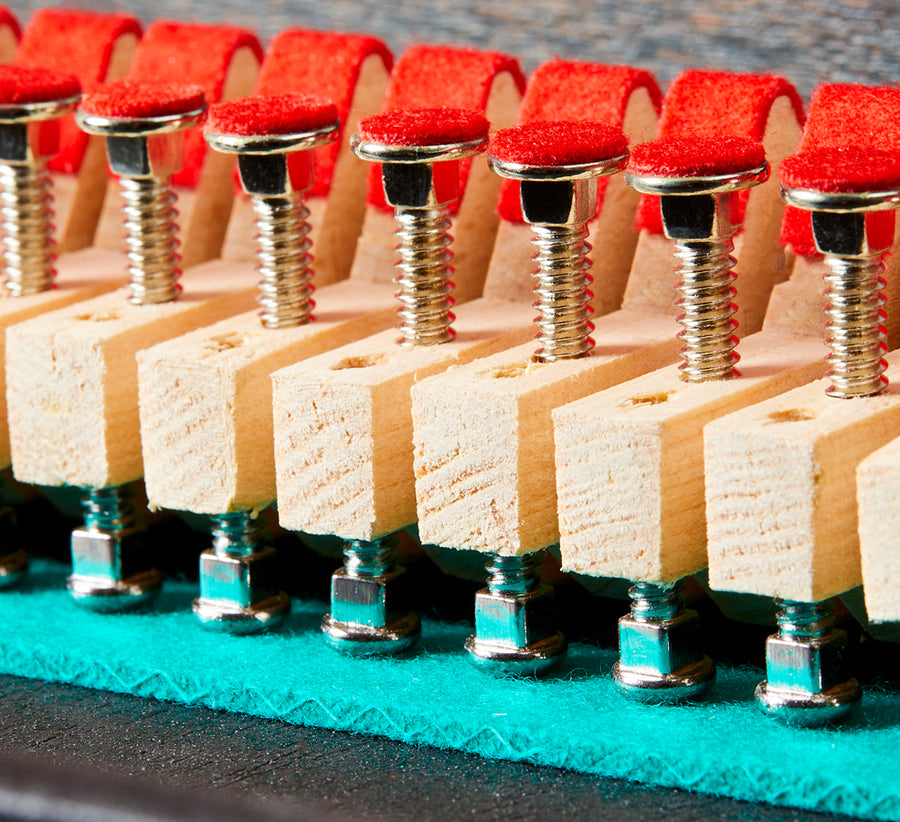 2021
Vintage Vibe celebrates a triumphant ten years of handcrafting the Vintage Vibe piano. That is a decade of fine-tuning our craft and further innovating and improving the art of electric piano building—a decade of delivering excellence to our loyal customer base. Our developed techniques can only be learned and applied through this decade of experience. Speaking of experience, our team has nearly 100 years of combined experience in electric piano work. Vintage Vibe's history and reputation have been earned, not bought.

Vintage Vibe realizes a limitation in the traditional Rhodes action, which causes inconsistent escapement and stop lock by designing and adding a second capstan regulation screw to the key stick and a jack style pedestal and advancing regulation yet again in the piano action. The US Patent and Trademark agency issued a patent to Vintage Vibe and Fred DiLeone for this design. There is nothing like our action on the market, and nothing else feels as good or plays as evenly.

Vintage Vibe designs an innovative new harp bracket with zero tone bar interference which is a huge improvement in how brackets and tone bars relate to each other. Our design can now be found on the new Rhodes MK8.

Vintage Vibe begins work on what is to become the Fender Rhodes Bible of repairs and modifications.
2022
In 2018 Fred and Chris strumbled upon a unique sound while Fred was adjusting a harp bracket while working on a piano; with one side of the bracket free, Fred realized he could manipulate the pickup rail by lifting the bracket on the free end. This movement changed the pickups in relation to the tines, which caused a tonal and slight pitch change. How much and how fast the bracket was moved determined the amount of tonal and pitch change that occurred. We were enamored by the sound, giddy if you will. We thought this was something we had to figure out; eventually, time went by, and as usual, we got caught up until years later, Fred came into work one day and said, I've figured it out! With a bit of back and forth on design, the Variable Voice Control was born.

Vintage Vibe applies for and receives a patent on a new adjustable pickup rail called the Variable Voice control.
2023
The Vintage Vibe Fender Rhodes Restorations and Modifications manual will be released. It will be the defacto manual for all Rhodes pianos. Stay Tuned!