Clavinet Preamp Rebuild Kit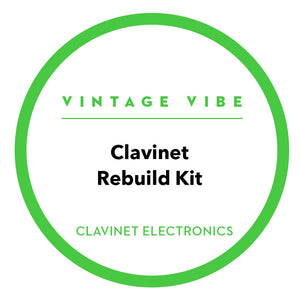 Vintage Vibe®
Clavinet Preamp Rebuild Kit
Regular price
$29.99
$0.00
Unit price
per
Save money with our Clavinet Preamp Rebuild Kit! Comes with all parts necessary to rebuild your Hohner Clavinet piano.
---
Share this Product
Product Details
Description
What's Included
Instructions
Video
Description
Is your Clavinet preamp malfunctioning? Purchase one of our rebuild kits to keep your vintage preamp alive and running!
Model C, D6, and E7 available.
Visit the Instructions tab for schematics 
Notes:
• Replacement Transistor Pinouts May Not Match Original. See Instructions Tab for Schematic and Transistor Pinouts

•We do not offer instructions or technical support for this item other than what is listed here.
• Improper installation or use will void any and all warranty.
• Installation of this product is performed at your own risk. Working on electronic equipment poses an inherent risk to oneself, others and personal property.  Vintage Vibe assumes no liability for the consequences of the attempted installation of this product.  If you are not confident in your abilities to perform this type of installation you may send the unit to us for service.
What's Included
INCLUDED IN THE KIT:
• All Electrolytic Capacitors
• All Polyester Film Capacitors
• All Metal Film Resistors
• All Transistors
*D6 kit also includes additional capacitors for optional hiss suppression.
Video