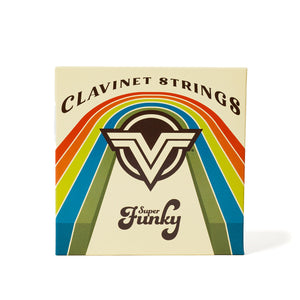 Vintage Vibe®
Clavinet Strings
Regular price
$0.00
$0.00
Unit price
per
Handmade, custom wound Clavinet Strings!
---
Share this Product
Product Details
Description
String Placement
FAQ
Installation Videos
Description
Looking for fresh harmonic popping tone from your Clavinet?
Vintage Vibe Clavinet strings are custom wound In the USA. We have teamed up with Mapes Piano String Co. to make the most authentic and harmonically rich Clavinet string ever made. Mapes has been designing and manufacturing strings for over 100 years. They have made strings for every Steinway Piano ever made. That is amazing and impressive. We are thrilled to work with Mapes.
The end product is rich in long-lasting harmonics and vibrant definition; from the moment you first play on these strings, you can hear the difference.
Vintage Vibe is also the only electric piano company to achieve a more consistent tone and volume between string sizes .022 and .009 by including .011 gauge strings for keys F3 - G3. This innovation is to ensure that you the customer have the most killer sounding clavinet possible!
Add Clavigel, our yarn-less string dampening system to your cart and not only enjoy the rich and vibrant tone of your new strings, but do so in a fraction of the time of traditional restringing and without a headache.
Strings are sold individually or as a complete set [62 strings].
String Placement
10x .032 Gauge: F1 - D1
5x .028 Gauge: D#1 - G2
9x .022 Gauge: G#2 - E2
3x .011 Gauge: F3 - G3
35x* .009 Gauge: G#3 - E5
*Includes two extra strings
FAQ
Do you use these strings in your Vibanet?
Yes, exclusively so. We are very proud of how our strings sound and perform. 
Is it really hard to change strings, I'm a bit nervous?
If you restring using our proprietary Clavigel yarn-less dampening system, it is actually the opposite of difficult. The notion of dread when it comes to changing strings is due to weaving the dampening yarn, which is absolutely dreadful.  This procedure is now a thing of the past, luckily. Restringing can now be a fun project that yields amazing and nearly instantaneous results. We just need to educate people on the new technology.
Installation Videos
Tech Tip | Vintage Vibe Clavinet Strings & Clavigel Installation
Tech Tip | Vintage Vibe Clavinet Hammer Tip Install Video
Tech Tip | ClaviClip Installation
Clavinet Strings
Hand Wound in The U.S.A.
Improved Tone
Eliminates Tone Loss Due to Under-Tensioned Strings
Best Paired With Our Clavigel!
Replace Deteriorating Yarn with our Easy To Install Gel Dampening System