Fender Rhodes Piano 73 Custom Fiberglass Sparkle Lid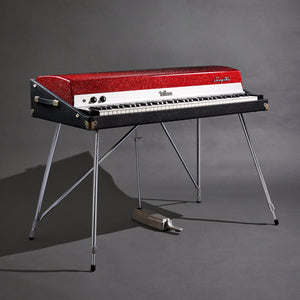 Vintage Vibe®
Fender Rhodes Piano 73 Custom Fiberglass Sparkle Lid
Regular price
$689.99
$0.00
Unit price
per
Make your presence known with a Vintage Vibe custom fiberglass sparkle lid!
See the Sparkle Color Chart below to make your selection.
---
Share this Product
Product Details
Description
Sparkle Color Chart
Description
Love the idea of the classic 1960's fiberglass lid for your Rhodes? So do we!
Vintage Vibe has created these rare and exciting lids. We offer an amazing color selection to choose from, we know it will be hard to choose. Just think how cool you will look on stage, just think of how many compliments you will get, just think of the perceived fanfare this will bring you and your music.  
Don't be fooled by imitation paint jobs, they scratch and scuff extremely easy. Paint will chip and peel in time without fail and that's not how to spend your money. Purchase an authentic reproduction made from Fiberglass.
Lids sold individually. Scripted logos are included.

There is a lead time of  4-8 weeks once an order has been placed. 


• These lids are only available for 73 note MK1 Fender Rhodes and Rhodes pianos. This lid will not fit any 1960s style piano or 88 note key pianos nor will they fit on Mk 2 pianos.

•  Color samples will vary due to computer resolution, settings and the way they were photographed. Samples chart is for visual reference only.  Vintage Vibe will not be responsible for any variations you may get.  Our lids are custom hand made through an organic process. Minor defects can be common and are a part of the hand made charm.  

• There are no returns on custom lids or products.
Sparkle Color Chart