Rhodes 5 Pin Cheek Block Power Supply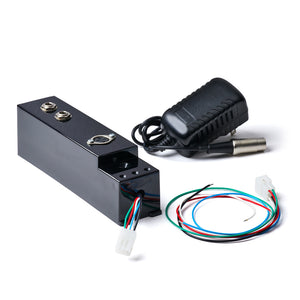 Vintage Vibe®
Rhodes 5 Pin Cheek Block Power Supply
Regular price
$183.99
$0.00
Unit price
per
This power supply will allow you to utilize the active electronics of a 5-Pin Janus pre amp without the use of the suitcase speaker cabinet
---
Share this Product
Product Details
Description
What's Included
Instructions
Video
Description
This power supply will allow you to utilize the active electronics of a 5-Pin Janus preamplifier without the power supply located in the large suitcase speaker cabinet.  Enjoy your piano and all of its features everywhere you go.  Left and Right 1/4" outputs are installed into the cheekblock to allow for full use of the preamplifier's stereo tremolo.
This is the lightest and most convenient power supply on the market.  Once installed, all you have to do is plug in and play. The power supply is good for use in any country where the provided voltage is between 110 to 240VAC.  If you are located outside of the U.S. you will need the correct AC blades for your region; click here.
*Installation of the 5-Pin cheek block power supply will require some simple soldering.  See the Instructions Tab.
**DO NOT plug the ac-dc adapter into the cheekblock while the piano is plugged into the suitcase amplifier.  Doing so may cause damage to the preamplifier or power supplies and be considered improper usage for which we are not responsible**
NOTE:
We do not offer instructions or technical support for this item other than what is listed here. We are not responsible for damage to the product or your unit during installation. If you are not confident in your abilities to perform this type of installation you may send the unit to us for service.
What's Included
• Cheek Block outfitted with power connector and 1/4" left and right output Jacks
• Wiring harness for interface between cheek block and preamplfier PCB
• AC-DC wall-wart adapter with U.S. AC blades*

*Interchangeable AC blades for use in other locations are available here

Video
The following videos demonstrates how to install a 5 Pin Cheek Block Power Supply Installation
The following videos demonstrates how to install a Cheek Block Power Supply.