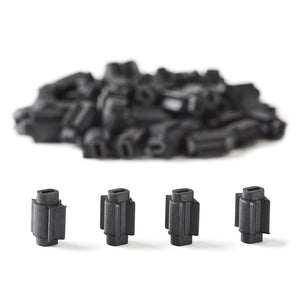 Vintage Vibe®
Synthesizer Key Bushings
Regular price
$21.99
Sale price
$25.00
Unit price
per
Keep your vintage synth rocking with Vintage Vibe's Pratt-Read Key Bushings!
---
Share this Product
Product Details
Description
Description
Have you noticed the keys on your classic vintage synth have become noisy, loose, and sloppy? Time and wear has crystallized the rubber which leads to shrinkage and hardening of the pratt-read key bushing mechanism - the action used in many of the great synths and combo organs of the past including the Prophet-5, OB-Xa, PPG, most ARPs, and the Minimoog, Vox organs, Farfisas.  
You can restore the action and feel of your favorite vintage synth with Vintage Vibe Pratt-Read bushings.  Once installed, you will experience, perhaps for the first time, what this quality mechanism is capable of.
Our synth bushings come dry unless you select us to lubricate them.
Sold in packs of 44, 49, or 61 synth bushings.
Optional:  lube + applicator brush
Some Synths that do not use Pratt-Read Bushing. Memory Moog - Roland / Yamaha / Korg / Akai / Kawai synths - Oberheim OB-8(most), Xk, Matrix 6, Matrix 12 - Arp Chroma, Polaris - Sequential T8, VS, 2000, Max, Six Trak - EMS - Oxford synths