Wurlitzer 200 Series Headphone Jack Assembly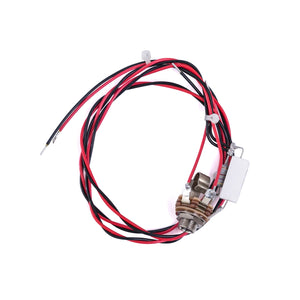 Vintage Vibe®
Wurlitzer 200 Series Headphone Jack Assembly
Regular price
$52.99
$0.00
Unit price
per
Replacement Headphone Jack Assembly for Wurlitzer 200 and 200A pianos
---
Share this Product
Product Details
Description
Description
This is a complete assembly for adding a headphone jack to your 200 or 200A Wurlitzer. This makes converting any student model piano a professional clean job.
200 series amplifiers use special switching Mono jacks and a load resistor to protect the amplifier when the speakers are disengaged.
Choose your model type:

Mono:
- 200 amplifiers use a Mono jack
- 200A amplifiers used a Mono jack from the factory
Stereo:
- 200A amplifiers can be outfitted with a stereo jack which will allow audio to be present in both ears of your headphone. After installation of the stereo jack, only stereo headphones should be used.  Attempting to insert a dummy plug (mono or stereo) into the stereo jack can result in damage to the amplifier unit.
* 200A Stereo headphone jacks come with a molex connector so the lid can be easily separated from the rail.