Wurlitzer 200A Walk-In Transistors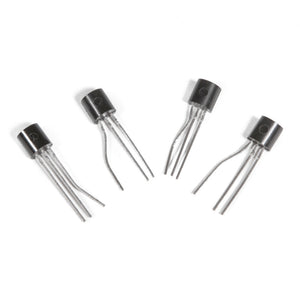 Vintage Vibe®
Wurlitzer 200A Walk-In Transistors
Regular price
$2.50
$2.50
Unit price
per
Replacement Transistors for Wurlitzer 200A series pianos.
---
Share this Product
Product Details
Description
Instructions
Description
Hand selected Wurlitzer electric piano 200A / 206A transistors: All new, quiet, modern transistors; not old stock 1970's technology that has been stored in a box for 30 years.  Also note that these are not NTE transistors, which are garbage.
*If you would like a matched pair of TR-11 and TR-13 output transistors, they are available here.

They will work fine without being matched but matching ensures the highest operation. **TR15 & TR16 Late model aux-out production started at serial #102905 (schematic #203720-S-3).  Be sure to select the correct version for your piano from the drop-down menu.
Transistors Sold Individually 
Replacement Transistor Pinouts May Not Match Original
See Instructional Tab for Transistor Pinouts