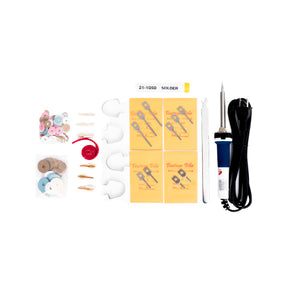 Vintage Vibe®
Wurlitzer Tech Kit
Regular price
$267.99
$0.00
Unit price
per
This kit was designed for anyone looking to be prepared when an issue with their Wurlitzer arises!
---
Share this Product
Product Details
Description
What's Included
Description
The Vintage Vibe Wurlitzer Tech Kit is basic essentials kit for anyone who is looking to be prepared for when an issue arises. Whether you are a studio or a touring musician, having the right parts at the right time is the difference between cutting the track or missing the cut.
The kit includes basic maintenance parts and service tools to keep your Wurlitzer going. In our experience, bad reeds and sluggish action are up there among the most common issues that come up. This kit will be able to remedy these symptoms!
Select your choice of a 112 series or 200 series Tech Kit.
What's Included
112 Series Kit
• Hammer Tips - Treble x3
• Hammer Tips - Mid x3
• Re Felt Bushing Clips x4
• Key Pedestal Felt - 12"
• Blank Reed #1 x3
• Blank Reed #2 x3
• Blank Reed #3 x3
• Key Bushing Tool
• Capstan Wrench
• Soldering Iron
• Solder
• Fast Action Remedy Lube
• Key Post Lube
• Key Shims
200 Series Kit
• Hammer Tips - Treble x3
• Hammer Tips - Mid x3
• Re Felt Bushing Clips x4
• Key Pedestal Felt - 12"
• Blank Reed #3 x3
• Blank Reed #4 x3
• Blank Reed #5 x2
• Blank Reed #6 x2
• Key Bushing Tool
• Capstan Wrench
• Soldering Iron
• Solder
• Fast Action Remedy Lube
• Key Post Lube
• Key Shims