Wurlitzer Whip Assembly Rebuild Kit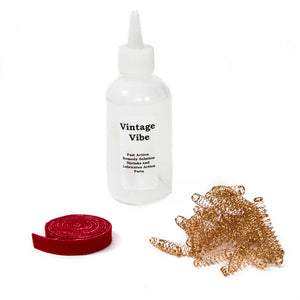 Vintage Vibe®
Wurlitzer Whip Assembly Rebuild Kit
Regular price
$49.99
$0.00
Unit price
per
Say goodbye to sluggish action! Restore your Wurlitzer whip assemblies to their former glory with our Whip Assembly Rebuild Kit!
---
Due to flammability laws, Fast Action Remedy can only be shipped via ground freight in the lower 48 states. If you live outside of the contiguous lower 48 states, this item is prohibited from air shipments and cannot be ordered.
---
Share this Product
Product Details
Description
Whats Included
Description
The solution for sluggish action is here!  This kit will restore your whip assemblies to their former glory.  This is actually easier to do than you'd think and it will solve any and all sluggish action problems.  Our kit will be able to restore 64 whip assemblies. 
Note: We no longer sell the self adhesive felts, because we found them to be ineffective long term. The current kit includes a roll of felt.  You need to apply contact cement to and then cut each felt once the glue is ready.
Whats Included
Whip Assembly Felt
Jack Springs - Qty 64
Fast Action Lubricant