4 Pin Rhodes Suitcase Power Supply Rebuild Kit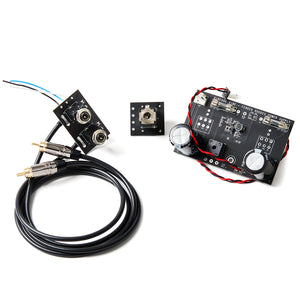 Vintage Vibe®
4 Pin Rhodes Suitcase Power Supply Rebuild Kit
Regular price
$189.99
$0.00
Unit price
per
Please read through the installation instructions entirely before making your purchase.
---
Share this Product
Product Details
Description
What's Included
Instructions
Description
Over time, leaky filter capacitors, oxidized jack contacts and faulty connectors are extremely common among suitcase power supplies. Some of the resulting symptoms are loss in supply voltage, increase in hum and intermittent or crackly output.

Our new and improved 4 pin power supply rebuild kit includes all the parts needed to rebuild your supply and address these issues. When paired with a solid four pin cable and properly functioning preamplifier and amplifier modules the result is a very stable and extremely quiet suitcase amplifier.
Note:
• We do not offer instructions or technical support for this item other than what is listed here.
• Improper installation or use will void any and all warranty.
• Installation of this product is performed at your own risk.  Working on electronic equipment poses an inherent risk to oneself, others and personal property.  Vintage Vibe assumes no liability for the consequences of the attempted installation of this product.  If you are not confident in your abilities to perform this type of installation you may send the unit to us for service.
Note:
• Please be sure to check that the options you've selected are correct. Selecting No Option will remove that option from your parts list. Don't forget to double check the items in your cart are correct before checking out.
What's Included
• Power Supply PCB: new rectifier, filter capacitors, regulator circuitry and speaker protection fuses
• External Amplifier Jack PCB: insulated ¼" jacks, new RCA cabling and plugs
• Stereo Headphone Jack PCB: updated to mute the speaker cabinet when headphones are utilized*
  *Do not plug anything other than a pair of Stereo Headphones into this jack. Improper use can result in damage to the amplifier units.
• 4-Pin female DIN socket (specify round DIN or square Cinch from drop-down menu)
• Upgrade LED power light
Please review the installation manual PDF before making your purchase.