Fender Rhodes Reproduction Damper Arms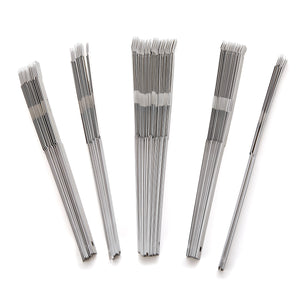 Vintage Vibe®
Fender Rhodes Reproduction Damper Arms
Regular price
$3.75
$0.00
Unit price
per
Purchase brand new damper arm sets for your prized Fender Rhodes!

Refer to the What's Included and Installation Guide tabs for Installation Details and Notes


---
Share this Product
Product Details
Description
What's Included
Installation Guide
Install Videos
Description
Ouch! So you have double striking, weak dampers that allow after-ring you say? Ok, no sweat! You are about to discover what a great action feels like!
The damper arm is a critical action part for Fender Rhodes Pianos that must never be overlooked. Old dampers are responsible for poor action, double striking, and loss of articulation during repetitive play, not to mention weak dampening. Don't overlook the importance of a strong damper and just replace the felts, only to realize the underlying cause was really the damper arm.
Here at Vintage Vibe, we know the importance of the dampers role in a Rhodes action and we never do a proper restoration without new damper arms.
Custom manufactured in the USA from the same aircraft aluminum as the originals, our dampers are correct replacements for all vintage Fender Rhodes pianos with single-leaf spring-style arms. We have modified and improved the original design to reduce damper bounce and flex, two symptoms of improper dampening.  
If replaced, we guarantee an improved action and playing experience on your piano. This will make you a more satisfied player that will show in your playing as well as your inspiration to want to play more.
We're proud to offer our new reproduction damper arm kits for 73 and 88 note pianos. These improved kits offer an extra section of arms (PRE-MIDDLE) to ensure the proper felt angle required throughout the Bass and Pre-Mid sections. In the Middle and Treble sections, which require different positioning than the previous sections, we've pre-formed the arms for proper damper felt angle against the tines. In addtion, we're also including Treble arms in each kit that are longer than the standard treble arm. These 7 3/32" length arms are for use in the extreme treble sections to deal with blocking issues that may arise. More information can be found in the What's Included and Installation Guide sections.
• Sold individually and in kits of 73 or 88.
• Screws not included.
What's Included
• Damper Arm layout (see table below). **Please also refer to the Installation Guide tab for more detail
| | | | | | | |
| --- | --- | --- | --- | --- | --- | --- |
| Kit   | Bass | Pre-Middle | Mid | Treble | Treble 7 3/32" | Additional Treble - 7 3/32" |
| 73 | 1-15 | 16-30 | 31-58 | 59-73 | - | x6 |
| 88 | 1-22 | 23-37 | 38-65 | 66-80 | 81-88 | x6 |
Installation Guide
Fender Rhodes Damper Arm Installation Guide
Some 73 note pianos may require our 7 3/32" damper arms in the extreme treble section. An extra 6 pieces of 7 3/32" damper arms are included in this kit. Adjust the split point between 7" and 7 3/32" damper arms as needed on your particular piano between B7 - E7. Form and clip as needed to prevent blocking of hammer, especially with damper pedal engaged.

As with the 73 note pianos, 88 note pianos may require longer arms in the same section (B7 - E7) for the same reasons. As such, 88 kits include 6 addtional 7 3/32" arms to alter the split point anywhere between those notes. 88 note kits include enough of these treble damper arms to poulate F7 - C8 depending on your piano setup. Form and Clip as needed.
**Before deciding on any split point, ensure optimal strikeline is established as this will affect damper felt clearance of the pickup bobbin.
**Make sure the 7 3/32" damper arms clear hammers upon engagement of the sustain pedal. if they impede, or get hung up, you'll need to trim the end.
Install Videos
Tech Tip | Installing Damper Felts on a Fender Rhodes
Tech Tip | Adjusting Treble Damper Felts on a Fender Rhodes
Tech Tip | Fender Rhodes & Rhodes Bass Damper Felt Difference
Tech Tip | Adjusting Treble Damper Felts on a Fender Rhodes