Fender Rhodes Individual Hammer Tips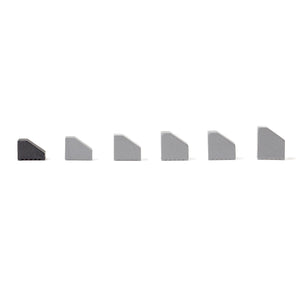 Vintage Vibe®
Fender Rhodes Individual Hammer Tips
Regular price
$0.75
$0.00
Unit price
per
Purchase any hammer tip we offer individually!
---
Share this Product
Product Details
Description
Placement
Instructions & Guides
FAQ
Description
Our Fender Rhodes hammer tips are engineered for maximum durability, sound quality and play-ability.  
Our hammer tips are custom made for old Fender pianos.  All old Fender piano hammer tips wear out at some point, they become grooved and tone is lost. The deeper the grooves on a hammer tip the worse the strike point is.  It creates a dull sound.  This is why it is important to replace hammer tips at the appropriate time in the pianos life.
All tips sold individually.
Full Kits available here.
If you would like to purchase individual Angled or Graduated hammer tips produced prior to our new 6-Zone tips (Angled = Nov. 2020, Graduated = June 2021), please contact us via email: orders@vintagevibe.com
Placement
Square Tips
Instructions & Guides
Square Tips:


 (Click to make bigger or save)
---
6 Zone Hammer Tips:

6 Zone Hammer Tip Installation Guide
---
Felt Hammer Tips: 
The felt included in this kit comes with 4 different stock densities, from soft in the bass to firmer in the treble. The bags are labeled Bass (1-26), Mid (27-25), Treble (46-65) and Woodcore (66-73). In order to achieve a proper attack in the upper ranges, you will need to harden the felt even more. This is where the felt hardener comes in to play.
Experiment without hardener first. You will see that the upper notes lack the attack you are used to hearing or are looking for. You will want to add more hardener to the treble than to the mid section. Always do one application at a time and then test to see and hear how you are doing. Make sure you have your amplifier set up to how you normally play.
From the included bottle, pour a capful in the lid. For the first application use your brush to apply a generous coast on to the mid and treble felts (so that they are damp). Do not apply to the bass felts or the wood core. Let dry for a few hours then test. Repeat as necessary. We typically do 3 applications o the treble felts and 2-3 on the mids. Since tone is subjective, you may want more or less.
Orientation of the felts is important. The felts are 3/8" x 3/8" x 5/16". Place felts with the 3/8" side facing up ad the other 3/8 side will be the side you glue to the hammer.
FAQ
I have a Piano Bass that needs new hammer tips. How should I proceed?
A bass piano utilizes the same hammer tips as the lower register of a Rhodes 73-key piano. That does not mean, however, that you should treat your instrument like other Rhodes pianos. A piano bass is intended, after all, to serve as the bass instrument in an ensemble. The type of bass tone you wish to achieve determines the tip configuration you should choose.
Our felt hammer tips are wonderful for a warm, wooly bass tone. At the opposite end of the spectrum, our graduated tips are our firmest tips and offer a sharper attack, which may or may not be desirable as a bass sound. We also offer square and angled neoprene tips that represent middle ground options, with a rounder attack than graduated tips and cleaner articulation than felt tips.
Another important factor that shapes the tone of your piano bass is how the strike line is set. Remember that the instrument was created to mimic a bass guitar. By offsetting slightly from the traditional optimal strike line, you can generate a tone more consistent with that of an actual bass.
I have a 54 Key Rhodes Piano. Where and how do I put on hammer tips?
We only sell kits in 73 and 88 note because they are the most common pianos found. In regards to hammer tips, it will be nice for you to have extra hammer tips left over for the future. The 54 note piano starts on C3 and goes to F6 on an 88 note scale or C1 to F6 on a 73 note scale. You can see the scale under our placement tab.
Which hammer tip kit should I choose?
Rhodes Hammer tips generally came in two size variations over the years; a square or cube style and an angled graduated style. Generally speaking, the square or cube style was indicative of earlier Pianos up till around 1977. These early hammer tips were mainly all the same height. After 1977 Rhodes switched to the angled graduated style, which was graduated in size across the scale of the piano. The shortest tips were in the bass and the tallest were in the treble section. The idea for the graduated hammer tips was so that they could regulate the escapement through the use of incremental height adjustments as opposed to adding or removing shims from the harp supports.
Square or Cube hammer tips are not optimal for the Rhodes piano for simple reasons which I will explain. They do not offer a precise strike point; the flat square tip hits the tine and blurs the strike line. The softer the tip, the more the tine sinks into the rubber tip causing further strike line ambiguity, impure tone, double strike and lack of clarity.
Today after 25 years of study and manufacturing hammer tips; Vintage Vibe has determined through research and development that the angled tip far exceeds performance of a square tip.
So which kit for your piano?
It doesn't matter as both are angled and, both will work equally as well. The idea, originally, for the graduated tips was that the escapement was already set by the differences in Hammer tip Heights when they were assembled at the factory.
Today we know that all pianos need adjustment of escapement and strike line to truly fine-tune and optimize a piano. With that being said, if you do not plan on any escapement or strike line changes you should choose the tip that is closest to the tips you currently have.
If your piano predates 1978 you may want to naturally go with the angled six zone. If your piano is 1978 or later you may want to go with the six zone graduated.
In summary both 6 zone hammer tip kits that Vintage Vibe offer are equally good and offer this exact same tone. It's how you set your piano up that will make the difference.
We use both in our shop depending on the vintage of the piano, but the only reason for our choice is to keep with style and era.
All Vintage Vibe pianos use 6 Zone Angled.