Fender Rhodes Tone Bar Screw with Grommet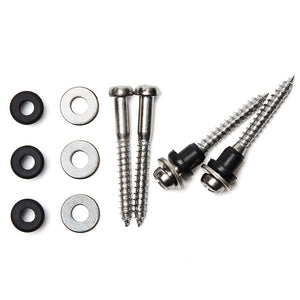 Vintage Vibe®
Fender Rhodes Tone Bar Screw with Grommet
Regular price
$0.50
$0.00
Unit price
per
New tone bar screws and grommets are an absolute must for proper voicing, sustain and tone on any Fender Rhodes or Rhodes piano.
---
Share this Product
Product Details
Description
Videos
Description
The need for new grommets, tone bar screws and washers is paramount to voicing and the proper sustain and tone of your piano.  Grommets are at the heart of the sustain and vibration of the tine and tone bar.  When a grommet becomes old shrunken and hard it loses it's natural ability to enhance vibration of the tine. In actuality, it starts to choke out the vibrations resulting in a short ring time and or a dull tone.  To aid in functionality tone bar screws must be absolutely straight for voicing articulately. Not only must tone bar screws be straight, they must also be designed to fit correctly. Vintage Vibe is the only company that ensures a proper mating of tone bar screws and grommets. This correct fit is paramount to functionality. Just like an old grommet will interfere with function, so will a new grommet that does not fit the screws properly.   Anyone one who thinks they do not need to change the screws is mistaken, anyone who tells you that you do not need to change screws, technician or not is mistaken.
We've manufactured our own custom nickel chrome plated screws and original Fender Rhodes style Tone Bar Grommets. The tolerances of mating these two together are very tight and we ensure that. Vintage Vibe is the only company that cares enough to sell you the correct parts. Our kit is simply the best and the only kit available that is manufactured together as a pair, screw, and grommet.
Complete Tone Bar Screws, Washers and Grommet kits can be purchased here.
Sold individually.  Includes screw, washer and grommet.
Videos
Fender Rhodes Original Tone Bar Screw Comparison
Tech Tip | Importance of Replacing Fender Rhodes Grommets & Screws