Wurlitzer 200 Series Damper Arm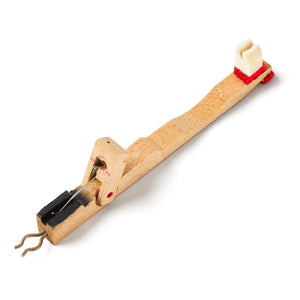 Vintage Vibe®
Wurlitzer 200 Series Damper Arm
Regular price
$10.99
$0.00
Unit price
per
Original Wurlitzer damper arm for 200 and 200A series pianos.
---
Share this Product
Product Details
Description
Description
Replacement Damper Arms for 200 Series Pianos.

This damper arm is a very important aspect to your piano. Not many people realize that the amount of tension that your damper spring has is relevant to the feel of the action. The tighter the spring the more snap, or subtstance, your action is going to have. Also, this spring affects the damper's main purpose which is to dampen the reed's tone upon release. A worn damper spring will not bring down the arm with enough tension to let the felt do it's job.
Sold individually.
Damper Arms are Original parts and an original Damper Felt may or may not be installed. It is recommended to purchase the appropriate felt for the section needed.
You can purchase Damper Felt here.
Note: If interested in purchasing a Short arm for the Treble section please specify that in the Notes section of your order.