Wurlitzer 200 Walk-In Transistors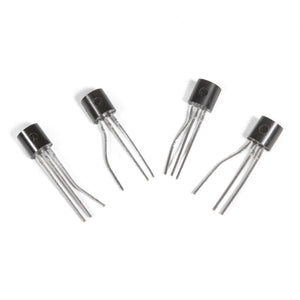 Vintage Vibe®
Wurlitzer 200 Walk-In Transistors
Regular price
$2.50
$2.50
Unit price
per
Hand selected transistors for a Wurlitzer 200 series piano.
---
Share this Product
Product Details
Description
Instructions
Description
Hand selected Wurlitzer electric piano 200 / 206 transistors: All new, quiet, modern transistors; not old stock 1970's technology that has been stored in a box for 30 years.  Also note that these are not NTE transistors, which are garbage.
Output transistors TR8, TR9 and TR10 are sold as a set. They are available here.
Transistors sold individually.
Replacement Transistor Pinouts May Not Match Original
See Instructional Tab for Transistor Pinouts