Wurlitzer Hiss Killer Kit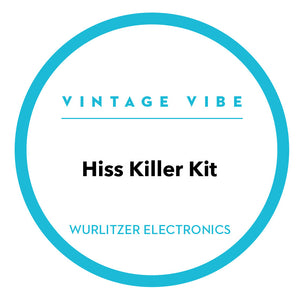 Vintage Vibe®
Wurlitzer Hiss Killer Kit
Regular price
$32.99
$0.00
Unit price
per
Vintage Vibe offers a Hiss Killer Kit that suppresses hiss at a Wurlitzer electric piano's speaker and aux output.
---
Share this Product
Product Details
Description
Whats Included
Instructions
Description
The Hiss Killer Kit suppresses hiss at a Wurlitzer electric piano's aux output. Model 140B's are notorious for noise and although improvements were made with the 200 and 200A models, these pianos often exhibit an unwanted and annoying hiss at the aux output.  Therefore, we have designed versions of this mod for 140B, 200 and 200A amplifiers. These are not amplifier rebuild kits and they will not remove hum (rebuild kits are available: 140B , 200, 200A; they are designed to remove hiss and due so quite effectively.)
Notes:
• Replacement Transistor Pinouts May Not Match Original. See Instructions Tab for Schematic and Transistor Pinouts

•We do not offer instructions or technical support for this item other than what is listed here.
• Improper installation or use will void any and all warranty.
• Installation of this product is performed at your own risk. Working on electronic equipment poses an inherent risk to oneself, others and personal property.  Vintage Vibe assumes no liability for the consequences of the attempted installation of this product.  If you are not confident in your abilities to perform this type of installation you may send the unit to us for service.
Whats Included
• Transistors*
• Metal Film Resistors
• Ceramic Disc Capacitors
• Diode (200 Model Only)
• Electrolytic Capacitor (140B Model Only)
*200A Hiss Killer Kit will contain two sets of TR15 and TR16 transistors marked "EARLY and "LATE".  Late model aux-out production started at serial #102905 (schematic #203720-S-3).  If your piano's serial number falls before this, use the EARLY set of transistors.  If your piano's serial number is later, then use the LATE set. Select your model Wurlitzer from the drop down menu to ensure that you receive the correct components for your amp.